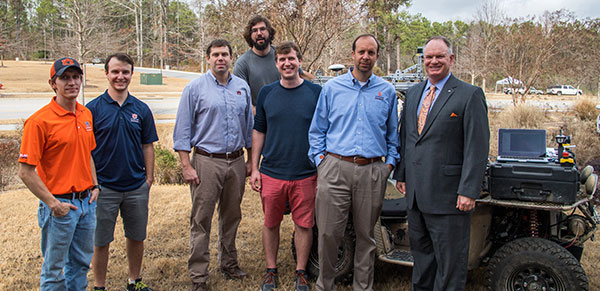 The GPS and Vehicle Dynamics Laboratory (GAVLAB) at Auburn University's Samuel Ginn College of Engineering focuses on the robust navigation and control of autonomous vehicles using GPS in conjunction with other on-board sensors such as Inertial Measurement Units (IMUs) with three main thrusts: sensor fusion and signal processing, vehicle modeling, and control techniques with application to vehicle dynamics and transportation. 
The GAVLAB's research on vehicle dynamics and transportation systems includes heavy trucks, passenger cars and off-road vehicles, including manual and autonomous vehicles. Projects have included improved steering control of GPS-guided farm tractors; driver assistance systems, vehicle and driver monitoring; and navigation and control of unmanned ground vehicles. 
The GAVLAB's research facilities include the National Center for Asphalt Technology's test track, a 1.7-mile oval track jointly operated by Auburn University and the National Asphalt Pavement Association, as well as several by-wire and automated vehicles (including two Peterbilt Tractors, by-wire Lincoln MKZ and an autonomous ATV). 
The GAVLAB's core capabilities include design and implementation of:
software defined GPS receivers for improved reliability in difficult signal tracking environments including heavy foliage, urban canyons, and intentional interference
multi-sensor navigation systems using either native sensor suites or specifically selected sensors with consideration for target platform (i.e. UAV, ground vehicle, pedestrian), accuracy, size, power, weight, and cost
camera-based navigation systems using visible-light and infrared cameras for visual odometry and map matching
deep learning for trajectory classification and predictive object tracking
model predictive control for automated driving
model based simulation tools for all of the above
The research conducted at Auburn's GAVLAB is led by mechanical engineering faculty Dr. David M. Bevly, the Bill and Lana McNair Endowed Professor, and Dr. Scott Martin, assistant research professor, in Auburn University's Samuel Ginn College of Engineering.